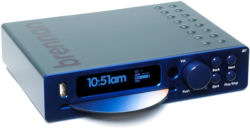 Brennan have just let us know of an exclusive special offer for GadgetSpeak readers. As you may have noticed we have a Brennan JB7 as our member prize this month - but... if you just can't wait to start organising your CD collection, then Brennan are offering a special £20 discount to GadgetSpeak readers.
The offer applies to all orders over £200. All you have to do is click on this link, make your selection and then enter the code "gadget08" at the checkout.
The offer is available until the 31st of May.
Please do read the review - and of course if you do buy, then come back and tell us what you think!