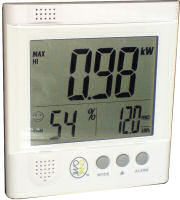 We all love our latest gadgets and gizmos, but these days the environment is always in the news and is something for which we should all try and do our bit. There are plenty of little things we can do - as we're often told - unplug products rather than leave them in standby, replace incandescent bulbs with low-energy fluorescent. How much does that save though? It's difficult to know.
A new product arrived on our mat yesterday that aims to put your efforts into perspective. It's called the OWL. Being a little different from the usual gadgets we have I was keen to have a play, so avoiding what I should be doing I took a closer look.
There are two components - a sensor and a display. The two communicate wirelessly and the display is big enough to see across the room, and reacts in real-time. You can display your usage in KW (bit abstract, but think about 100W light bulbs), Kg of CO2 or, if you really want to know, enter your tariff and see how much money you're burning each hour. Unless you've done everything you can to reduce your consumption be prepared for a shock - we were!
This little gadget is going to have a more thorough test over the next few weeks and we'll bring you a full review! In the mean time if you'd like more information pop over to the OWL web site.