Welcome to our GadgetSpeak competition for May 2009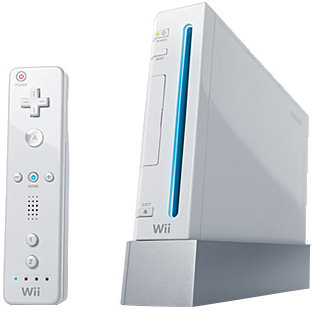 This months we're giving our members the chance to wil the sought after Nintendo Wii Games Console (click here for free membership!).
This little marvel has taking the gaming industry by storm, upstaging the likes of Sony and Microsoft by replacing a technological arms-race for every faster processors with some clever ideas.
The competition is open to all qualifying GadgetSpeak members (in the UK) and anyone that wants to join our growing community of gadget enthusiasts. All you have to do to enter is select the correct answer to the question below and click the "Enter competition" button. As simple as that! Please do check the terms and conditions though to ensure you are eligible.
Prize Draw Rules
The draw will run from the 1st to the 31st of May 2009. At the end of that period a prize draw will be held of all qualifying members. Qualifying members are :
UK resident
must be a member of GadgetSpeak - including new members that join during the competition period
log into GadgetSpeak and correctly answer the qualifying competition question
subscribe to the GadgetSpeak email updates during the competition qualifying period
(members : check your profile)
complete personal details in your profile (minimum of real name and phone number so we can contact you, and to prevent multiple entries per person!)
Please also note the following :
GadgetSpeak may decide at any time not to run further competitions
Winners will be drawn at random from qualifying members within one week of the end of each days prize draw
The prizes are as stated, no alternative will be offered and there is no cash alternative. Gadgetspeak may in exceptional circumstances substitute a similar prize of equal or greater value.
The winner will be notified by email and asked to confirm their postal address for delivery of prizes
The winner agrees to allow GadgetSpeak to mention their user name and rough geographic region on the GadgetSpeak site and in site emails to members (we won't publish any personally identifiable information about winners!)
The winner agress that GadgetSpeak may share their contact detail with GadgetSpeak partners for the sole purpose of allowing those partners to deliver the prize to the winner
Each individual may register with GadgetSpeak exactly once. Attempts or suspected attempts to register multiple email addresses for the same individual will cause that individual to be disqualified and all suspect accounts will be suspended
The selection of a winner by GadgetSpeak is final
Note that the winners must claim the prize within 7 days of GadgetSpeak sending notification by replying to the notification email. Should the winner fail to reply to the notification by that date GadgetSpeak will withdraw the prize. Please ensure that GadgetSpeak emails are allowed through any spam filters you may have configured.