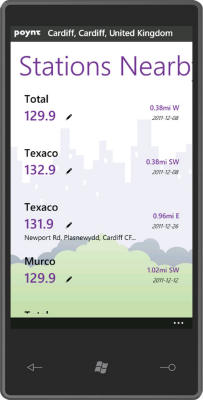 With fuel prices, around here at least, stubbornly stuck at their highest point in a very long time shopping around can save you a tidy sum over the year. Shopping around isn't easy though - you can easily eat up any saving through the extra miles you use - for the average car a 1p difference in price is only about 50p on a tank, or put another way if you're getting 40 miles per gallon, then drive more than 4 miles and you're out of pocket!
On several occasions I've driven to my local 'cheapest' garage (usually a local Asda) only to find on that day they are the same price as Tesco - two miles closer!
If you're away from home things are even more difficult because you don't know the local competition.
Poynt have teamed up with Whatgas.com to provide real-time dynamic petrol pricing information. When your tank is getting low simply check nearby prices and plan your journey accordingly!
The application runs on Apple iPhones, Blackberry's (tablet and phones) and Windows phones. The picture on the right is running on a Windows phone.