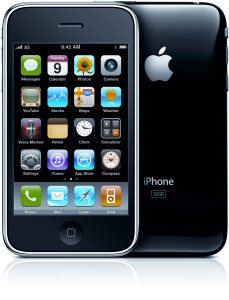 Image Courtesy of Apple
O2's strangle hold on the supply of the much sought after Apple iPhone appears to be nearing an end with the announcement that Orange are to also ship the product iPhone 3Gs. No date has thus far been announced but interested Orange customers can register their interest now.
So... what does this mean to the average Joe? For a start Orange customers can stop looking enviously at every iPhone being flaunted by O2 customers walking down the street. They will also no longer need to make excuses like "Well - I prefer the [add your own phone] over the iPhone - it's just a gimmick".
There's also a chance the price might come down. The minimum contract for a free iPhone on O2 at the moment is £44 per month. As cool as the iPhone is, it doesn't actually do anything many other phones haven't done for a good while, and often done better (I'll be reviewing my new and rather cool Sony Ericsson W995 shortly :-).
What do you think? Are all you Orange customers going to be beating down the door at your local shop to join the cool brigade - or are you going to snub the Apple product because they snubbed your favourite mobile operator? Comments below!