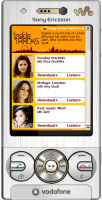 Well - not your own personal celebrity guide, although that would of course be nice.
Sony Ericsson have however engaged the services of three up-and-coming young artists to share with you their own favourite, and less well known parts of our capital. Each took a shiny new Sony Ericsson W715 on a walk about London to collect their thoughts.
Eliza Doolittle explores some of Camden's coolest hidden hang outs and shares her memories of growing up in North London while Amy Studt takes us to her East End party hot spots, before heading west to slow down the pace. Finally there is Zarif who shows us what's hidden in London Bridge station before exploring her favourite spots in east, south and central London.
Each of these tours last between one and 3 hours.
Now as I said - you don't get the actual celebrity all to yourself - but you do get the audio tour in MP3 format. All you have to do is download the one that interests you the most and save it on your favourite audio player or phone and away you go.
This could be an excellent way to get otherwise uninterested kids motivated and eager to explore - or just take one yourself next time your in the city with some time to kill - great fun.
All the tours are free and can be downloaded from a special Inside Tracks web-site that Sony Ericsson have put together.
If you do decide to take one of the tours please do come back and tell us all how you got on!