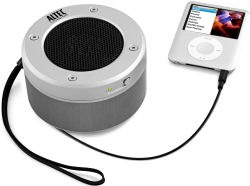 Here at Gadgetspeak we are great fans of good technology and the Orbit MP3 speaker is definately one of our favourites from last year. So we're really pleased to see that Altec Lansing have announced the European launch of the New Orbit™ iMT237 MP3 Ultra Portable Music Speaker today.
The new Orbit iMT237 MP3 speaker has been updated with a rugged new design and improved functionality. It's new design is built for mobile lifestyles being light weight and shock resistant. And if it's anything like it's previous sibling, the sound quality, powered by Altec Lansing's award winning acoustic technology, will be stunning for such a small and portable speaker.
We're looking forward to receiving our review unit so we can test it out thoroughly and give you the detailed lowdown. We're sure it will make a great stocking filler this Christmas for iPod users everywhere!
The Orbit iMT237 has a recommended price of £29.99. The best price I've found for this very new product is £27 from Amazon.