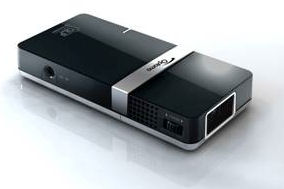 There's been a definite trend in television to bigger and bigger displays. Various technologies have been used including rear-projection, plasma and more recently LCD. Each has benefits - each disadvantages.
What you're really after though with these devices is a true cinema experience - and at the moment at least the screens are bot not big enough and very heavy. Couple that with the fact you don't want them for all T.V. (Teletubies on the big screen anyone? Enough to frighten any child!).
A great alternative is to use, just like the real cinema, a projector. There are plenty on the market, driven originally for the purposes of generating corporate slide shows. They're bulky though.
This is where Optoma fit in with their new Pico Pocket Projector. Optoma are by no means new to the projector market - indeed the range of projectors on their site is quite bewildering. The Pico is a little different though. You can't really get a feel for the size from the image it weighs a mere 115g and measures only 2" x 4" x 0.5" - it really is pocket size. This tiny little device though is capable of producing a 60" projected image and, when powered by battery, keep that image up there for around 2 hours.
Impressed?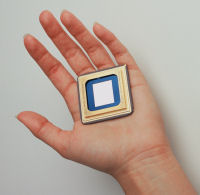 The Optoma achieves this specification through the use of DLP® technology developed by Texas Instruments way back in 1987 (some things take a while to make it to market!). The technology is absolutely fascinating comprising a silicon chip covered in tiny mirrors - up to 2 million. Each of these mirrors is on an even smaller hinge and each can be moved independently of all the others.
An image is created by shining light at the array of mirrors. Each mirror can be turned into or away from the light thousands of times a second. When in the light, the beam is reflected to the lens and hence to your screen. When away no light passes. You can vary the amount of light reflected by the number of times the mirror faces the light. By shining separate red, green and blue lights you can create as many colours as you want. An advantage of this system over other technologies is that the combination of mirrors and light mean each generated pixel can be very close together, rendering a much better quality image for the viewer.
I'm not sure how clear that description is, so for those of you I've managed to lose Optoma have provided a video (originally from Texas I believe) that illustrates the system much more clearly than I'm capable of covering in a few words.
The Pico Pocket Projector is one of the first consumer applications of a technology that scales all the way to full cinema digital projectors. I'm sure it won't be the last. The price will be around £249 when the Pico makes it to the shops from early November. Right now it's so new it's only on the Optoma site as a news item.