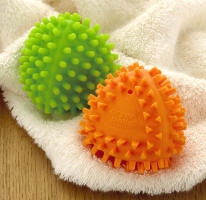 Last week I received two products from Lakeland to help with the cost of washing - the Dolly Balls and the Dryangles.
The Dolly Washer Balls come in a pack of 9. You spread these small plastic balls evenly around your washing and they provide extra agitation - a bit like when you rub your clothes together when handwashing - if you can remember handwashing. The extra friction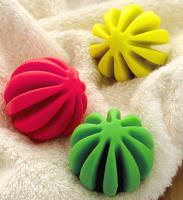 can, they say, save you up to 75% of your washing powder and make lower temperature washes more likely to work. I gave them a go at 30 degrees and with a very small amount of washing powder. It's not a scientific test, but I must admit the wash did seem to come out the same as it would have done with more powder.
The Dryangles are for use in your tumble dryer, to aid softness without needing to use fabric conditioner. I gave this a go with towels, and yes they did come out reasonably soft - they certainly weren't like cardboard. Lakeland claim that drying time can be up to 25% faster. I didn't notice any difference on this score - but again it's hard to do a valid test.
Dolly Washer Balls cost £13.99 for a pack of 9 and Dryangles are £9.99 for a pack of 2. Both available from Lakeland at Lakeland.