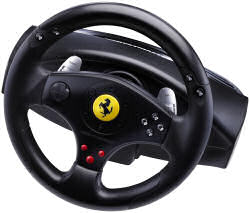 In the competition to provide the most realistic drive in a computer game, Thrustmaster have launched the "Thrustmaster Ferrari GT Experience", bearing the famous racing marque. From the company's press release they "aim to offer gamers a unique experience by allowing them to enjoy intense racing sensations with a racing wheel proudly bearing the legendary prancing horse emblem"
So what have they done to justify such a claim?
Well - it definitely looks the part with high quality textured rubber grips. Gear change has been incorporated into the steering wheel in true Formula 1 style with up-down click changing. To add to the realism a shock vibration device allows you to feel the terrain as you tear around the race track. They have also incorporated something they are calling 'bungee cord' - a technique for realistically implementing steering wheel resistence as you turn.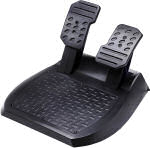 The pedal arrangement is also highlighted as a key feature with progressive movement, good pedal spacing giving the experienced racer the opportunity to employ heel-toe techniques.

The Thrustmaster works with the PS/2, PS/3 and standard PCs.
It should work with most racing games, with the following games making the most of the new features : Formula One Championship Edition, Ridge Racer 7 and Colin McRae: DIRT.
Can it live up to the claims? We're hoping to take a sample for a test-drive shortly so we can provide an indepth GadgetSpeak review and let you know how it performs in practice!
If you can't wait for the review, you can read more on the Thrustmaster web-site