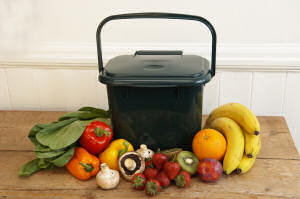 Sainsburys have teamed up with Cedo to encourage homeowners to recycle their food waste this September. For a fortnight, starting 12th September, they will be giving away a free compost caddy to everyone who buys a roll of Sainsbury's compost caddy liners (subject to availability of course). The initiative, is designed to help tackle Britain's 5,375,000 tons of food waste which equates to 17.6% of Britain's total house waste. Sainsbury's point out that 87% of UK homes have gardens but only 33% of gardens have a compost facility.
I received one of these little bins this morning and it is now sitting on my worksurface. It does come in a very unfashionable green(!) which is OK if you want to hide it under the sink, but we've hidden it in a corner!! It's not that beautiful, but it is very useful, looks a sight prettier than the plastic veggie carton we were using before, and has a lid so the fruit flies don't get too interested in your peelings!!
The real beauty is the liner. The compost liners are starch based and non GM, so that are totally degradable and you can pop the bag and its contents onto your compost. If you don't have a home compost, many councils now give away composting wheelie bins, so you could pop it in there. No excuse not to really - go on pop along to Sainsburys and grab a gadget that will make you feel good!