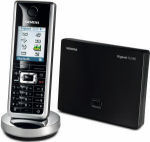 A Cordless Home Phone
Fitting somewhere between a mobile phone and a landline, a new DECT phone is put to the test.
Why should mobile phones have sole access to all the tasty features that are currently available within the telephony sphere? Landlines have been around for far longer and, even now, hold the dominant position within the home - so maybe it is time for some of these usability features to make the transition from mobile to landline.