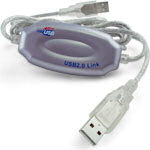 Transferring Data via USB
Using flash drives or optical media can be used to transfer data between unconnected computers. However there is an alternative method using a USB link.
It is becoming increasingly common for homes to contain more than one computer. Often these system boxes, along with various peripherals, are linked together via a network whether that is of the wired or wireless type. However not everybody needs the functionality offered by a network. In some cases all you really need is a quick and easy method of transferring data from one computer to another that is in reasonable proximity.