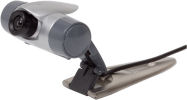 USR Mini Cam for Skype
While the camera itself is tiny the headset that comes with it is of a conventional size. If you want to see the other party while talking on Skype – video conferencing – this could be for you.
To use the USR Mini Cam for Skype your PC will need to be running SP2 of XP or later. You will need a spare USB port for the camera and two audio sockets for the headset one for the microphone and the other for the speaker. The headset comes with 2.1metres of lead so providing you are near to a PC it should be okay. The mini cam has 1.7metres of lead certainly enough to fix on or near the monitor/panel.