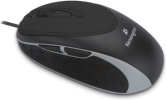 A 5-button Optical Mouse
We take a look at a new addition to Kensington's range of optical mice.
When considering the make up of your computer system, I just wonder how much thought goes into the selection of the mouse. In many cases, I should imagine, the answer would be "very little". Yet this input device is constantly being handled and does provide the main communication route between the user and the desktop.