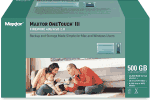 Additional External Storage
My first hard disk had a capacity of 20MB which pales into insignificance when compared to the 750GB now sitting alongside my system.
Unlike my waist measurement, which does have a tendency to fluctuate, the hard disks in my computers do not have the same ability to adjust their capacity to suit storage requirements. While I have no concerns with regards to the lack of shrink capability, problems can arise when I need to store more data than there is space available. Fortunately additional storage space is readable available in products such as product.