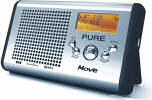 Pure Move DAB and FM radio
This is small about the size of the pocket offerings that were MW/LW radios in my youth, the difference the battery is rechargeable and of course the sound quality is far superior.
It is 15x8x2.5cm with the rod aerial collapsed this when fully extended (six piece) adds another 40cm to the 8cm height. The weight is a little under 300grams. The face is silver with the sides and back a black rubberised material. There is a small 15x10cm manual of 10 pages but once you have located the on/off switch most will be able to work out at least the basic functions.