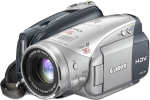 Canon HV-20 HDV Camcorder
Canon's new HDV camcorder. Presented with all the "hype" of a film star. Is it an "Oscar" or a "Razzer"?
The great day dawned and the parcel delivered. The had arrived. The first shock was its size - it is very small. This feeling of inadequacy was soon dispelled as the camera had a good solid feel and sat well in the hand.