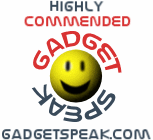 Highly Commended
Some products just miss out on our coveted 5x5 smiley award - a product has to be just about perfect in every way to receive that award! That doesn't mean there aren't a lot of very good other gadgets out there!
To recognise those products that missed out on a 5x5 award by just a whisker, we've introduced the 'Highly Commended' status. Products still have to be pretty good to get one of these and out of almost 3,000 reviews on GadgetSpeak (as of December 2010) only around 180 have gained the required marks to be Highly Commended!
Tell me more about the GadgetSpeak Awards!