Garmin nüvi 660

Published Dec 6, 2007 Author
petew
A flexible personal GPS navigation system that can also provide a range of other in-car services.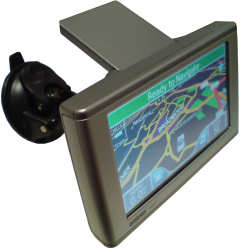 At heart the nüvi 660 is a Global Positioning System (GPS) satellite navigation system. It also incorporates MP3 player, Bluetooth hands free functionality and an FM transmitter (see later!).
The nüvi is a whole family of different units from the '200' up to the '770'. The 660 under review here is toward the top end of the range in terms of both cost and functionality. Physically this is a pleasantly small device measuring 124 x 74 x 23mm (WxHxD) and weighing under 200g.
The package include the nüvi 660 itself, a USB cable for connection to either a Microsoft or Apple computer, a USB main charger cable and a car power lead for attachment to a standard 'accessory power point' (cigar lighter!), pouch and a 'quick-start' guide, well actually ten separate quick start guides for different languages. It was interesting that even the French translation mentioned Californian rules on using a suction cup to attach the unit to the windscreen. The unit has an internal lithium-ion rechargeable battery with a stated life of 7 hours on a full charge.
While the quick guide is a useful starting point, this product has a lot of functionality and most of it aimed at those on the move. With this in mind the product really should come with a printed manual. Unfortunately the manual is only provided in machine-readable format on an included CD.
The front of the device is almost completely taken with the bright 4.3" touch sensitive screen, that has a 480x272 resolution. The only control other than the touch screen is a top-mounted on/off switch - all other functions are controlled by the touch screen which gives the nüvi a very clean appearance.
GPS and Navaigation
All of the features you'd expect from a modern GPS system are present on the nüvi 660. Maps can be displayed either flat or in '3D' which I found particularly effective - the route updating as you drive and giving you a clear indication both of where you are and where you're meant to turn. Directions for reaching a nominated destination are clearly overlaid on the display and are also provided as voice prompts. If you make a wrong turn the system will calculate the necessary directions to be you back on track.
The touch screen is an excellent control interface for an environment where the last thing you want is fiddly controls and complex interfaces. All the control areas are large (buttons or map) and all clearly identified. Garmin have resisted the urge to cram too much information on a single screen.
Destinations can be conveniently selected by post-code, street name or map reference with possible completions provided for incomplete or ambiguous places. You can programme your home address and save favourites so returning from that business meeting is as simple as touching a single icon. Planning a complex route is fairly straightforward allowing you to set a final destination and a number of 'way points' via which you'd like to pass.
I entered a number of known addresses via post-code into the system and each was correctly located and the selected routes seemed sensible and generally chose the almost the routes I would have taken.
Satellite reception is via a flat fold out aerial to the real of the device that should be angled so that it is parallel with the ground. I didn't have any problems with reception. Even indoors reception wasn't completely lost with signals received from four satellites.
The menu allows you to select your mode of transport - you have the choice of car/motorcycle, pedestrian, bicycle, lorry and bus. I'm assuming the lorry/bus choices allow the route planner to avoid low bridges! The Garmin web-site makes clear that this unit is not suitable for motorcycle use. Pedestrian use is possible, however not ideal because of the way the aerial unfolds from the back of the device. It's pedestrian use would mainly be useful for the last stretch of a journey getting from the car park to a meeting.
The Garmin nüvi 660 will also except an external traffic data feed that will allow it to report congestion, accidents and other road situations on the display, and to route you around potential problems. This facility requires an external, separate FM traffic information receiver.
Bluetooth
The Bluetooth function allows you to pair the nüvi 660 with your mobile phone and effectly provides a voice operated hands free kit. I had no problem pairing the device with my Sony Ericsson K800i phone. Once paired I had access to my phone book, call lists and voice dialing.
Travel Pack
Like most mobile gadgets the humble GPS has spread it's wings to address what once would have required a collection of separate devices. In the case of the nüvi this additional functionality is presented as a 'Travel Pack' and aims to provide all the services your average driver is likely to need on the move. It's a reasonable list :
MP3/Audio Book player
download music or other audio content to either internal memory or slot in card.
FM Transmitter
This is similar to the standalone iPod FM transmitters legalised in the UK around a year ago. Switch the transmitter on and audio output (including MP3 playback) is broadcast on an FM frequency that you can into which you can tune your car radio. This worked adequatly, although the signal strength wasn't good enough to provide stereo reception.
Picture viewer
Language Guide
This provides effectively a phrase book. The 660 is is shipped with a sample guide - you can purchase the full guide separately. While this may be useful, my personal view is that you'd fare better with a traditional paper phrase book. The data is provided by Oxford University Press.
Travel Guide
This is a place holder allowing you to buy a travel guide of your choice. There are currently 7 guids available covering the US and countries in Europe. The price varies from US$69.99 for the US, US$74.99 each for Central Europe, Northern Europe, Sourthern Europe, Scandanvia and (for some reason) France to $160.70 covering the whole of Europe. The guides integrate with the GPS functions providing 'points of interest' to which you can navigate.
Travel Clock
Currency Converter
On the test unit the internal memory had around 250M bytes of free memory. Expansion is via standard SD flash cards, which now cost as little as £6.99. Copying music onto an SD card can be done directly from Windows or Mac OS. The Garmin software is clever enough to find tracks wherever they were on the SD card - no need to add to specific folders. It did however fail to find MP3 files with no title/album information.
The Garmin nüvi 660 is available from Halfords, which currently have a special offer providing the entire package for £299.99 :
http://www.halfords.com/webapp/wcs/stores/servlet/ProductDisplay?partNumber=555037&catalogId=10151