Email updates from GadgetSpeak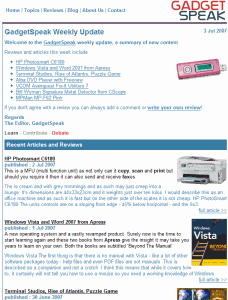 First of all - we don't give out your email address to anyone else!
Email updates are sent once a week and include a short summary of reviews, blogs and other activity at GadgetSpeak over the previous week. The summaries are very similar to the layout of articles on the GadgetSpeak homepage. You can see a typical example on the right!
We also sometimes includes some editorial content in the weekly updates.
We might also include offers that we think you might be interested in.
You can switch off GadgetSpeak emails at any time.