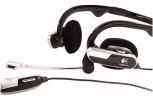 Two Different Headsets
The first from Jabra a very light Bluetooth one mainly for those who spend their life on a mobile. The second from Logitech for those who are shackled to a notebook.
Jabra BT125 Bluetooth Headset This is a Bluetooth headset that - as far as I can see - links with any Bluetooth phone and is so light that you really will not know you are wearing it. It fits into the ear but not deeply and with the swivel fitting that goes over the ear it can fit in either ear. There is just one control on the unit a switch on the outer side to start and finish a call to do this press it briefly.